Reserve online
Hotel Colombina Venice
and save with our discounted rates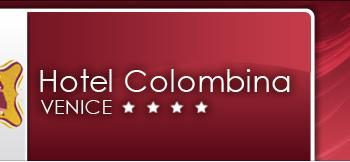 Home > Rooms
The rooms are spacious and furnished in an elegant '700 Venetian style. They have been designed to offer the guests all the best comforts within the premises of an ancient and unique Venetian palazzo.
All 32 rooms are equipped with a private bathroom, mini-bar, hair dryer, air conditioning, telephone with direct line, safe, Sat-TV, Pay TV, radio and internet plugs ..... and what a thrill it is to step into your Hotel directly from a boat, using the hotel's private water landing.
Breakfast rooms, American bar, reading room and meeting room.
Open all the year round. All major credit cards are welcome.

Superior Deluxe Rooms
The Colombina is proud to offer you three new and exclusive superior-deluxe rooms with launge: Fenice, Rialto end Doge. For those who are looking for a higher comfort combined with the services that the Colombina hotel can offer you.
Services & Amenities
General
Air Conditioning, Direct Phone, Hair Dryer, Minibar, Safe, Satellite or Cable TV, TV
Photo Gallery
Give us your Feedback
Hotel Colombina, Castello 4416 - Venice